Q&A Felix de Martín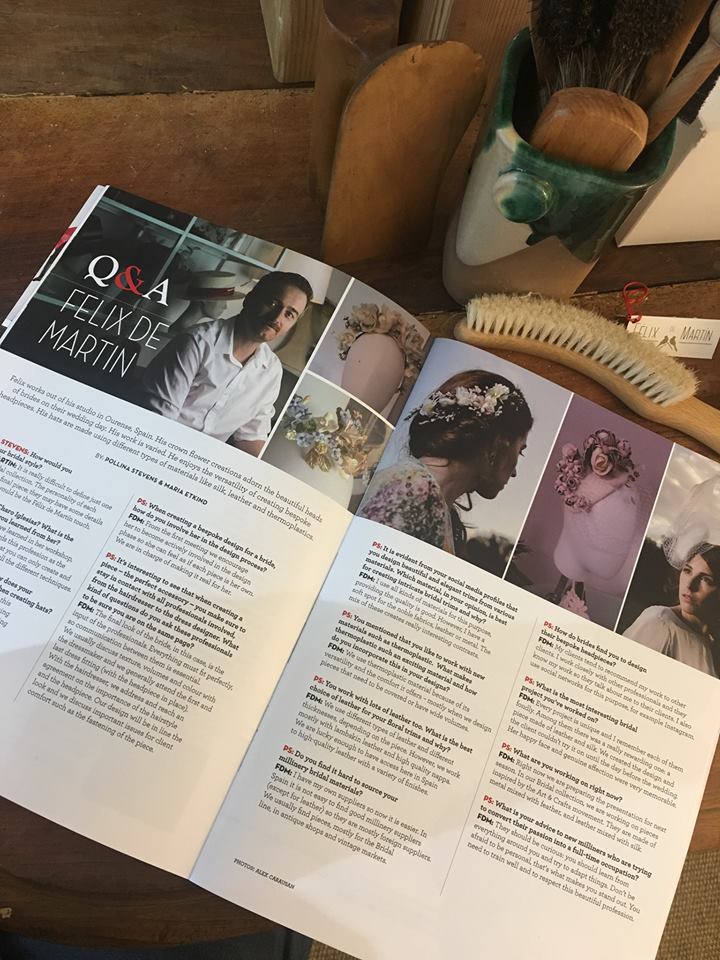 Félix works out of his studio in Ourense, Spain. His crown flower creations adorn the beautiful heads of brides on their wedding day. His work is varied. He enjoys the versatility of creating bespoke headpieces. His hats are made using different types of materials like silk, leather and thermoplastics.
BY: POLLINA STEVENS & MARIA ETKIND
POLLINA STEVENS: How would you describe your bridal style?
FELIX DE MARTIN: It is really difficult to define just one style in our bridal collection. The personality of each client defines the final piece; they may have some details in common which would be the Félix de Martón touch.
PS: You trained with Charo Iglesias? What is the most important lesson you learned from her?
FDM: Of all the things I have learned in her workshop, I would choose respect towards this profession as the most important and the fact that you can only create and innovate freely when you know all the different techniques.
PS: You are also a dressmaker. How does your dressmaking experience help you when creating hats?
FDM: It is a perfect basis for working in this field, not only technique-wise (hand stitching for example) but also because you are working with volumes, textures, proportions...
PS: How do you keep yourself informed about new materials and trends in millinery?
FDM: By direct contact with suppliers, specialized magazines, colleagues and, of course, the Internet.
PS: When creating a bespoke design for a bride, how do you involve her in the design process?
FDM: From the first meeting we encourage her to become actively onvolved in the design phase so she can feel as if each piece is her own. We are in charge of making it real for her.
PS: It´s interesting to see that when creating a piece -the perfect accessory- you make sure to stay on contact with all professionals involved, from the hairdresser to the dress designer. What kind of questions do you ask these professionals to be sure you are on the same page?
FDM: The final look of the bride, in this case, is the input of the professionals. Everything must fit perfectly, so communication between them is essential. We usually discuss texture, volumes and colour with the dressmaker and we generally attend the first and last dress fitting (with the headpiece in place). With the hairdresser, we address and reach an agreement on the importance of the hairstyle and the headpiece. Our design will be in line the look and we discuss important issues for client comfort such as the fastening of the piece.
PS: It is evident from your social media profiles that you design beautiful and elegant trims from various materials. Which material, in your opinion, is best for creating intricate bridal trims and why?
FDM: I use all kinds of materials for this purpose, providing the quality is good. However, I have a soft spot for the noble fabrics, leather or metal. The mix of these creates really interesting contrasts.
PS: You mentioned that you like to work with new materials such as thermoplastic. What makes thermoplastic such an exciting material and how do you incorporate this in your designs?
FDM: We use thermoplastic material because of its versatility and the comfort it offers -mostly when we design pieces that need to be covered or have wide volumes.
PS: You work with lots of leather too. What is the best choice of leather for your floral trims and why?
FDM: We use different types of leather and different thicknesses, depending on the piece. However, we work mostly with lambskin leather and high quality nappa. We are lucky enough to have access here in Spain to high-quality leather with a veriety of finishes.
PS: Do you find it hard to source your millinery bridal materials?
FDM: I have my own suppliers so now it is easier. In Spain it is not easy to find good millinery suppliers (except for leather) so they are mostly foreign suppliers. We usually find pieces, mostly for the Brigal line, in antique shops and vintage markets.
PS: How do brides find you to design their bespoke headpieces?
FDM: My clients tend to recommend my work to other clients. I work closely with other professionals and they know my work so they talk about me to their clients. I also use social networks for this purpose, for example Instagram.
PS: What is the most interesting bridal project you´ve worked on?
FDM: Every project is unique and I remenber each of them fondly. Among them there was a really rewarding one: a piece made of leather and silk. We created the design and the client couldn´t try it on until the day before the wedding. Her happy face and genuine affection were very memorable.
PS: What are you working on rigth now?
FDM: Right now we are preparing the presentation for next season. In our Bridal collection, we are working on pieces inspired by the Art & Crafts movement. They are made of metal mixed with feather, and leather mixed with silk.
PS: What is your advice to new milliners who are trying to convert their passion into a full-time occupation?
FDM: They should be curious: you should learn from averything around you and try to adapt things. Don´t be afraid to be personal, that´s what makes you stand out. You need to train well and to respect this beautiful profession.